1. The ultimate GeForce card, almost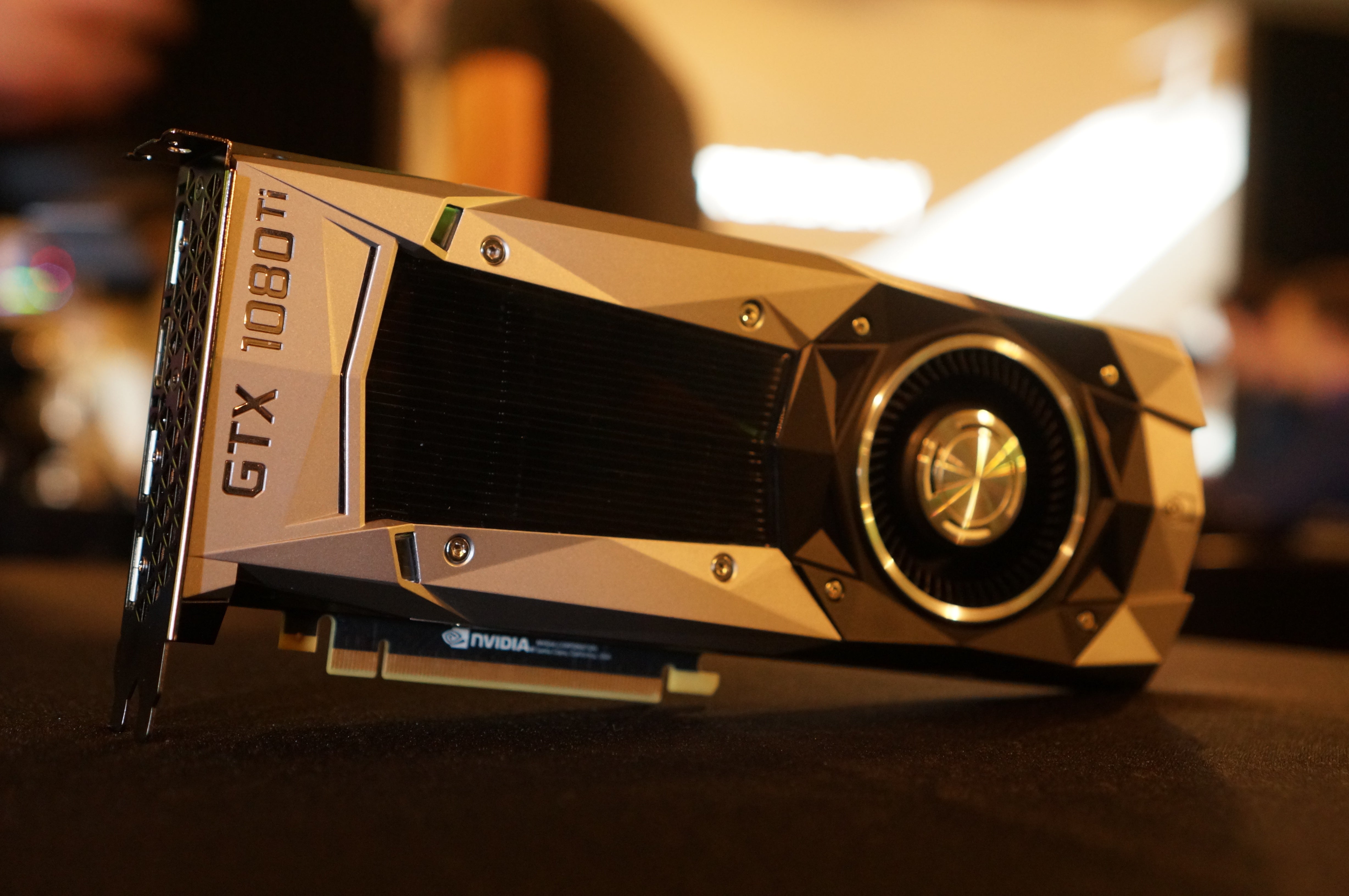 Nvidia just unleashed what it calls the "ultimate GeForce card," and the blisteringly fast GTX 1080 Ti indeed delivers unparalleled levels of gaming performance. But the version you can buy today isn't truly the apex of graphics technology, even if the core graphics processor itself is.
Customized graphics cards always push performance far past what reference cards offer, thanks to a mixture of beefy cooling solutions and mild-to-heavy overclocks. But while the initial salvo of GTX 1080 Tis are limited to $700 "Founders Edition" reference cards, the likes of MSI, EVGA, Asus, Zotac, and other Nvidia partners haven't been shy about showing off their plans for the new GeForce flagship… even if they haven't been forthcoming about concrete price and release date details.
Here's a look at all the custom GeForce GTX 1080 Ti graphics cards destined for release sooner than later. Nvidia tells us it expects partner cards to hit the streets later in March, and a recent outpouring of details from Asus, EVGA, Gigabyte, and others suggest that might actually happen.
2. Asus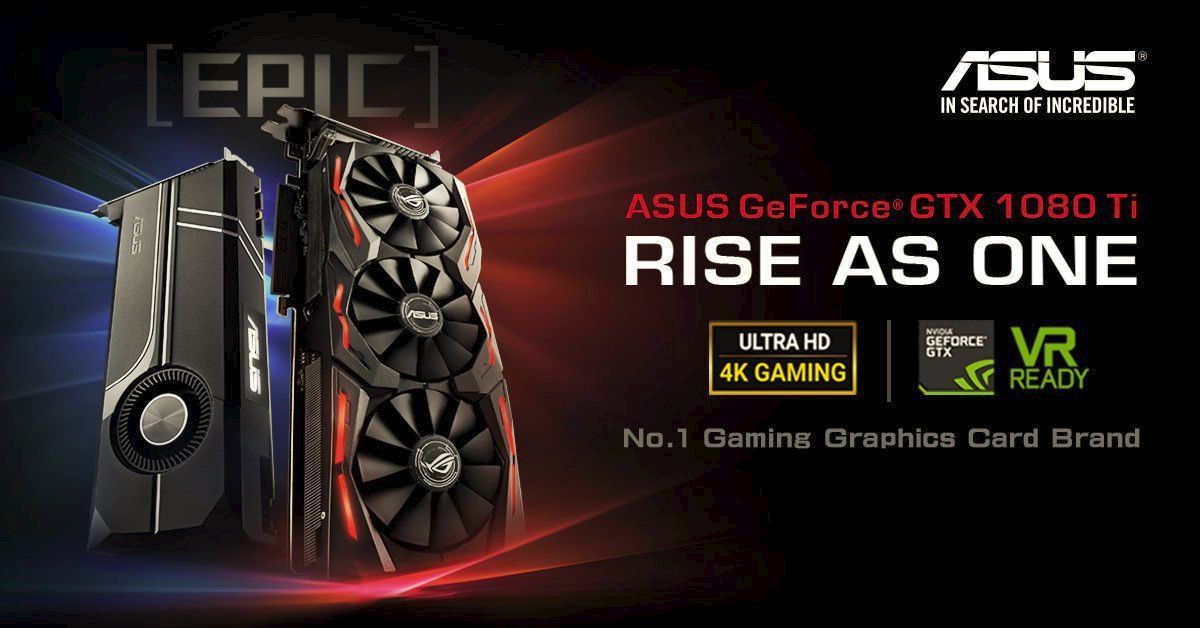 Asus was one of the first Nvidia partners to show its custom cards—the Asus Strix GTX 1080 Ti and Asus Turbo GTX 1080 Ti—in their full glory, and it's the first to reveal finalized specifications, too.
The Turbo version sticks to a basic, borderline reference-like single fan design, paired with reference clock speeds. The Asus Strix GTX 1080 Ti is much more interesting, with two models available. The baseline Strix sticks to reference speeds in standard Gaming Mode, or up to 1,620MHz if you enable the OC Mode in Asus' software. A more potent Strix GTX 1080 Ti OC Edition, meanwhile, boosts to 1,683MHz in its default Gaming Mode or 1,708MHz in OC Mode—a 126MHz boost over the GTX 1080 TI Founders Edition.
Both rock the same superb triple-fan cooler found in other high-end Strix models. The Strix GTX 1080 Ti also supports Asus tech such as FanConnect II for optimal fan speed performance, and Aura Sync to synchronize the card's RGB lighting with the lighting on other Asus hardware in your system. Notably, the Strix cards feature a modified port configuration with dual HDMI ports, dual DisplayPorts, and the DVI connection that Nvidia ripped from reference models.
Look for the Asus cards to land in late March, prices unknown. TechPowerUp already has an early Strix GTX 1080 Ti review available.
3.EVGA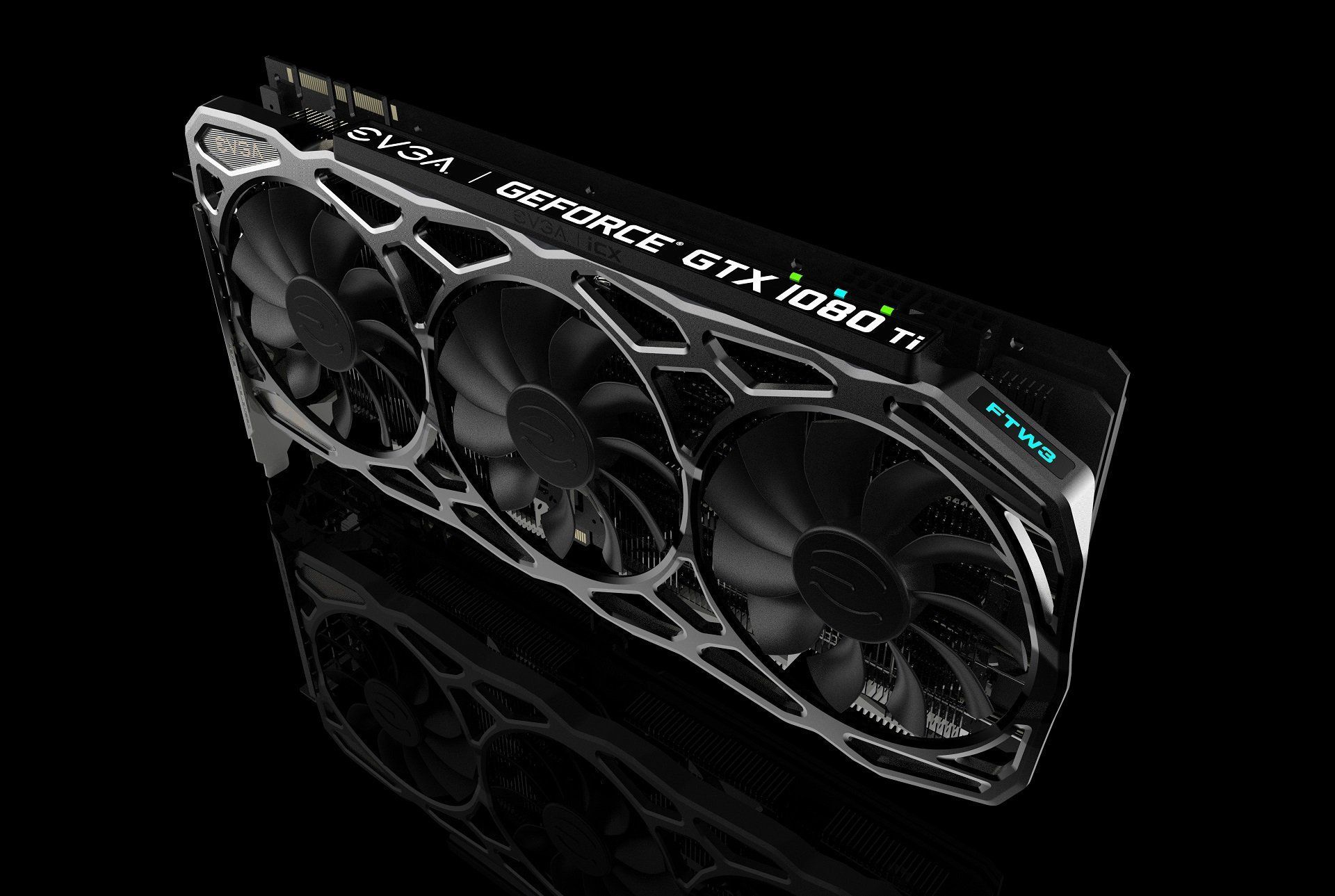 EVGA's prepping not one, not two, but three separate custom GTX 1080 Ti graphics cards. All feature the company's awesome new iCX cooling technology, which loads the graphics card with sensors to provide granular cooling monitoring and control for the GPU, on-board memory, and power controllers. Pricing and release dates haven't been announced for any of them, though.
The EVGA GTX 1080 Ti SC Black Edition looks like the entry level (ha!) model, packing a simplified dual-fan version of the iCX cooler and none of the swanky sensors. It features overclocked core speeds of 1,556MHz base and 1,670MHz boost. The GTX 1080 Ti SC2 also packs dual fans and the same overclocked speeds, but works in EVGA's iCX sensors, too.
But the most powerful card in EVGA's arsenal will be the GTX 1080 Ti FTW3, a triple-fan, iCX-laden beast of a card that ups the power requirements to dual 8-pin power connectors and increases the power phase delivery to 10+2, up from the 7+1 in the other two cards. Its clock speeds are slightly higher, at 1,569MHz base and 1,683MHz boost, but the beefier power phase set up combined with the GTX 1080 Ti FTW3's dual BIOSes suggest this is the EVGA card you need if you want to manually push your overclocks to blistering heights.
4.MSI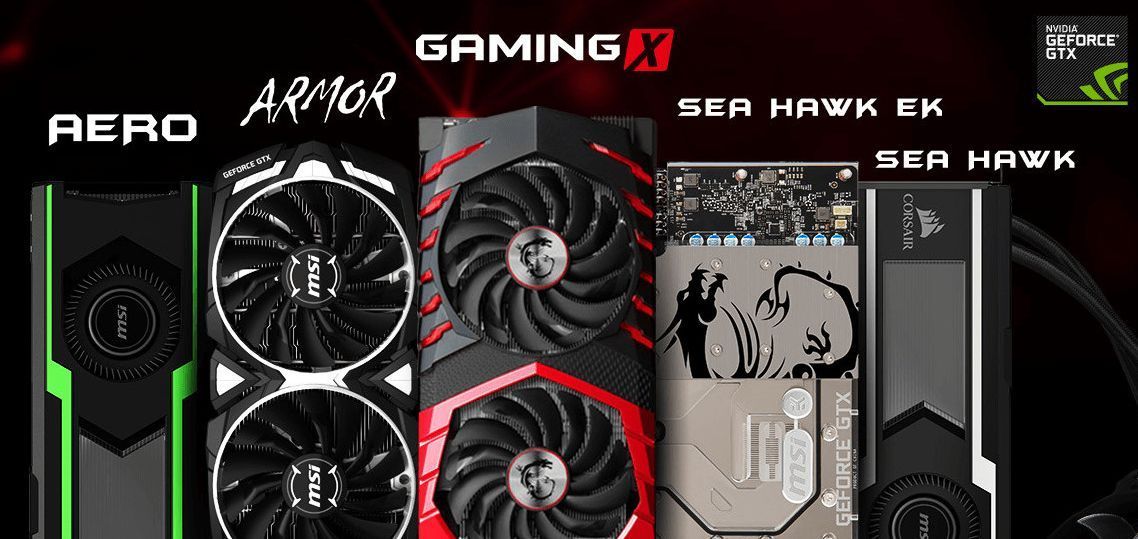 Like most of the other major graphics card vendors, it appears MSI plans to stick with what's already working well. The five GTX 1080 Ti cards it revealed all build upon the company's existing designs—though MSI's existing high-end cooler designs are impressive indeed.
The Aero is essentially an Nvidia-hued reference card, while the Armor features a fairly basic dual-fan setup that packs MSI's Torx tech and shuts off in low-load situations. The flagship MSI GTX 1080 Ti Gaming X rocks a beefier, RGB LED-enhanced version of MSI's potent Twin Frozr VI custom cooling solution, so it'll no doubt be overclocked out of the box. (MSI hasn't revealed tech specs for any of its GTX 1080 Ti cards.) The Sea Hawk, meanwhile, extends MSI's use of Corsair Hydro closed-loop coolers to the GTX 1080 Ti, while the Sea Hawk EK packs an integrated EKWB waterblock for folks who prefer swankier custom water-cooling setups.
MSI hasn't announced any pricing or release info for its GTX 1080 Ti graphics cards. Such a tease.
5. Inno3D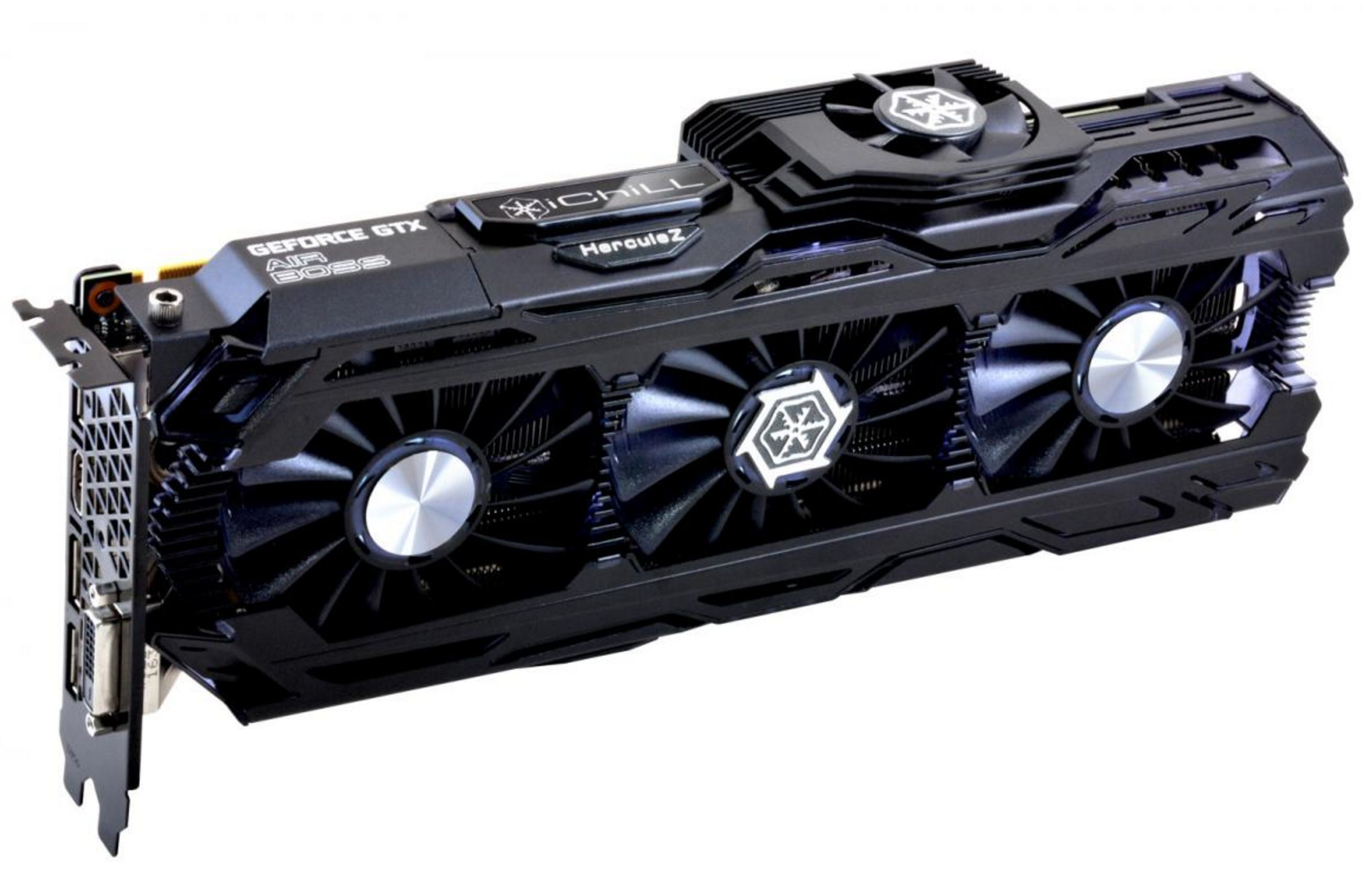 Much like Asus, Inno3D isn't leaving much of the Inno3D GeForce GTX 1080 Ti iChiLL X3 and X4's physical design to the imagination, offering up detailed pictures in a press release. At first blush, the card lacks some of the refinement found in hardware from rival graphics makers, but damned if it doesn't look beefy. That heft's augmented by a "Herculez Armor" backplate on the rear of the card.
While Inno3D hasn't released official information about its custom GTX 1080 Ti models yet, it sent a pre-production review sample of the Inno3D GeForce GTX 1080 Ti iChill X3 over to Bit-tech. That hefty cooler lets the company crank speeds from the Founders Edition's 1,481MHz base and 1,582MHz boost clocks all the way to 1,607MHz base and 1,721MHz. Not too shabby. The card also ups memory clock speeds by 300MHz, and increases board power from 250W to 280W.
The difference between the X3 and X4? Inno3D's X4 model adds a tiny fan to the side of the graphics card, as you can see in the image above. Funky. I'd expect it to be mostly superfluous though, as under load it'd have to run at insanely low RPMs to avoid a high-pitched, whiny shriek.
6. Zotac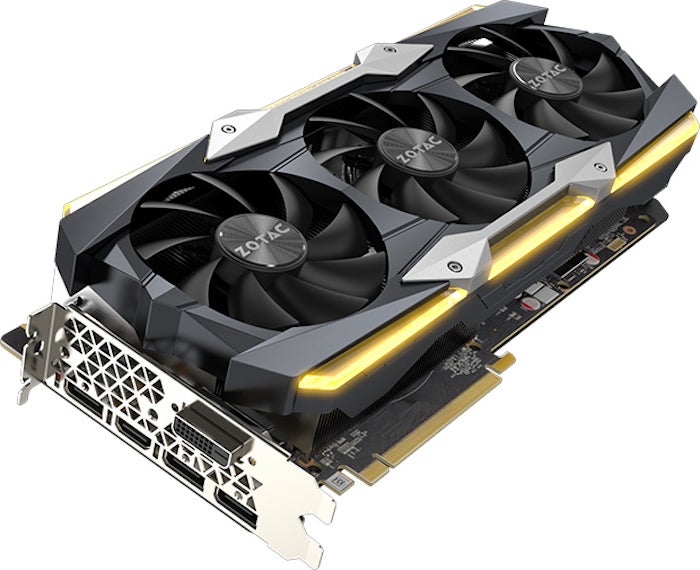 Zotac's revealed not one, not two, but four GeForce GTX 1080 Ti cards on its website, including the ferocious GTX 1080 Ti Amp Extreme now shown above. Two of the cards are essentially reference designs, however, while the two customized Amp models lack firm details about clock speeds. There's no pricing info either. You can look at them, though!
Source : PCWorld