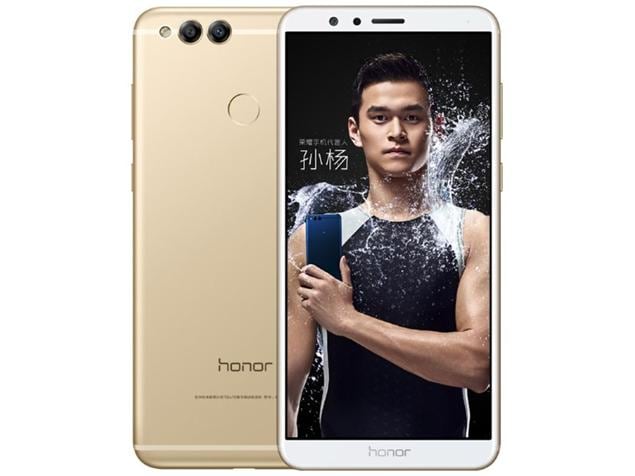 For all those Americans who have been patiently waiting for the Honor 7X phone to finally arrive, this year's Consumer Electronic Show (CES) in Las Vegas must seem like Christmas, as Huawei announced at the show that the device will finally be available in the United States. They also said that it would sell for $199, at their website and at select retailers.
The Honor 7X, which has been getting terrific reviews, is a mid-range Android device featuring a large 5.9″ screen, a quad-core Kirin 659 processor, 4 GB of RAM, 64 GB of internal storage, a MicroSD card slot for up to an additional 256 GB of external storage, and three cameras: an 8-megapixel front facing camera and 2 16-megapixel rear facing ones. It also has a slim bezel design and a rear fingerprint reader that can also launch apps and perform other tasks. Currently, the device is running the Nougat version of Android, but Huawei expects to update the device to Oreo sometime early this year.
The Honor 7X further has an eye-catching unibody construction that sets it apart from other budget phones. It is available right now in black, gold and deep blue, but Huawei — which is currently behind only Samsung and Apple in smartphone sales — is releasing a limited edition device in red for Valentine's Day. Only 200,000 of these devices will be available worldwide.
Huawei also announced at CES the release of a higher-end phone called the Honor View 10. The device, which will be available in the United States later this year for under $500, has a 6″ screen, 8 processing cores, 6 GB of RAM, and a front fingerprint sensor. Like the Honor 7X, it has 3 cameras, with a 13-megapixel front facing camera and 16- and 20-megapixel rear ones. These specs favorably compare with Huawei's top-of-the-line phone, the 10 Mate Pro, which itself may be coming to America soon.
One drawback of both the Honor 7X and the Honor View 10 is that neither is water or splash resistant. But this is not so unusual for devices selling at these price points