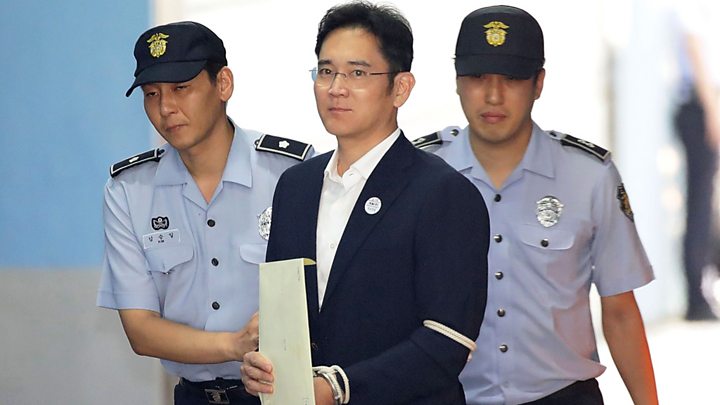 A South Korean court has sentenced Lee Jae-yong, an heir and leader of Samsung to five years in prison for bribery scandals that also led to the impeachment of the country's president. This case came at the time when residents of the nation have been angered by Chaebols, South Korea's largest corporations. Lee, who had faced a jail term of up to 12 years has been detained since February on several accounts of corruption including hiding assets overseas, bribery and embezzlement.
Bribery Charges
The Samsung heir was found guilty of donating $36 million to non-profit organization ran by Choi Soon-sil, a friend of Park Geun-hye, South Korea's former president in exchange for political favors. Lee was seeking to get government support in restricting Samsung with the aim of strengthening his control over the company.
However, Lee denied the charges stating that the payments were signed without his knowledge. Lee had earlier admitted that Samsung gave a horse and money to help Choi's daughter career, but denied seeking any political favors. His lawyer, Song Wu-cheol has expressed their interest in appealing against the court decision saying that the decision was unfair and will be overturned.
Other Involved Parties
The case led to the impeachment of President Park, and she now faces trial over corruption issues that she has denied. On the other side, Choi was found guilty of using her position to solicit favors and jailed for three years.
Other Samsung executives have also been convicted in the same case and sentenced to four years in prison. Former Samsung boss Park Sang-jin and Vice President Hwang Sung –soo have been given suspended sentences.
Will Lee Serve His Jail Sentence?
Lee is not the first big corporation boss to be charged for corruption in South Korea. In the past, all convicted corporate executives have faced suspended sentences of pardoned by the president. The situation might be different as the new president Moon Jae-in has already declared that there will be no more presidential pardons.
With the said, Lee is likely to serve part or his full sentence if higher courts uphold this ruling. This will be different from what has been observed in the country. The new government has already declared that it will be sending a strong message to chaebols and Lee could be used as an example.
How Does This Affect Samsung?
Since the conviction, Samsung shares have fallen by one percent. Given that Lee has been an outstanding leader since 2104; the verdict also raises questions about the future of its leadership. It is not clear if Lee's sisters will take over as business as remained affected since he was arrested six months ago.