A Nintendo console retrospective
Nintendo started as a humble playing-card company in the late 1800s, but ended up saving the video game industry from a financial crash in the early 1980s. Since then, Nintendo has had an illustrious history and has gone on to become arguably the most important console manufacturer of all time. Let's take a walk down memory lane as we look back at the company's console hardware highlights.
1. Nintendo 64 (1996)
The Nintendo 64 console launched in Japan on June 23, 1996. The console debuted in North America for $199.99 that September. Facing stiff competition from Sony and its PlayStation console, which had released a year and a half earlier in Japan, the N64 didn't perform as well as its predecessor and sold 32.93 million units worldwide.
The console debuted in a dark gray chassis, but eventually came out in a wide variety of colors.
As the name implies, the console used a 64-bit processor, specifically NEC's VR4300 CPU clocked at 93.75MHz. The N64 launched with 4MB of Rambus RDRAM, but the console had an expansion slot that would later allow players to double the memory with an Expansion Pak. The Legend of Zelda: Majora's Mask and Donkey Kong 64 required it. For graphics, the console used SGI's Reality Co-processor clocked at 62.5MHz. The system was able to support up to 16.8 million colors and resolutions up to 640×480.
With its computing horsepower, the N64 helped pave the way for modern 3D graphics and redefined polygonal 3D games with titles like Super Mario 64 and The Legend of Zelda: Ocarina of Time.
While the N64 was more powerful than the PlayStation in many ways, it was ultimately held back by its cartridge format, which couldn't compete with Sony's 650MB CD-ROM solution. For reference, the largest N64 cartridge was 64MB, and most of them were between 8-12MB. Nintendo was concerned that piracy would run rampant with CD-ROMs. However, the limited cartridge format pushed away many third-party developers–most notably Squaresoft, which wanted to make large-scale games like Final Fantasy VII that required a lot of storage space to house full-motion video. Nintendo's cartridges also took a long time to produce and were expensive. As a result, games often retailed for $70 or more. One advantage cartridges had over CDs, however, were near-nonexistent load times.
Nintendo also released a new controller with the N64, which featured a unique three-pronged design. The leftmost prong featured a D-pad, while the middle prong featured Nintendo's first analog stick. The controller also supported haptic feedback via an optional Rumble Pak add-on, which debuted with Star Fox 64 in 1997. The controller launched in gray but eventually came in a wide variety of colors. The N64 was also one of the first consoles to support four controller ports without the need of a multitap adapter. The system ended up becoming a local multiplayer party machine because of this and produced iconic titles like Super Smash Bros., Mario Party, and GoldenEye: 007, the last of which proved that consoles could produce competent first-person shooters–a genre nearly exclusive to the PC up until then.
2. Super Nintendo Entertainment System (Model SNS-101)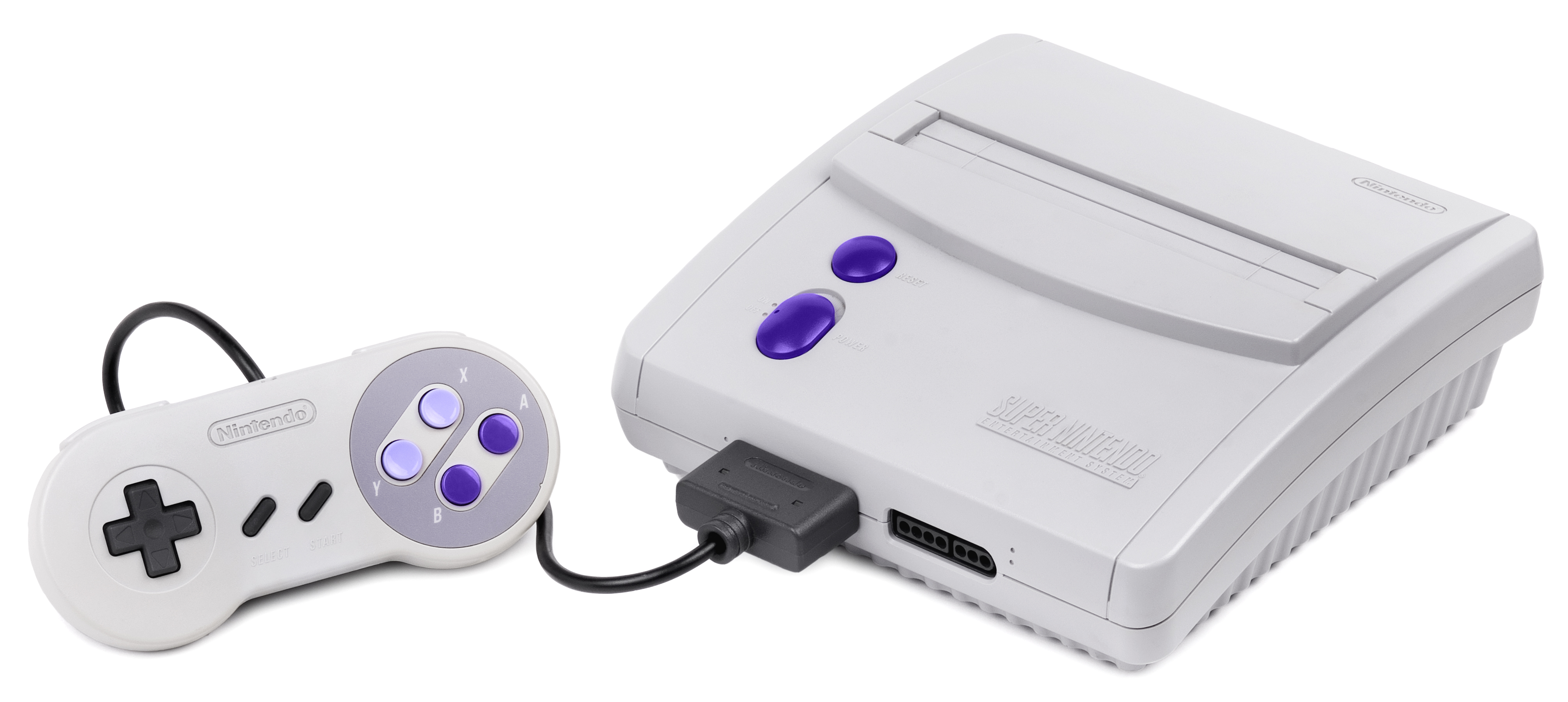 Released in North America on October 20, 1997, the revamped SNS-101 version of the Super Nintendo retailed for $99.95. It was designed by Nintendo to be a cheaper, more entry-level gaming system for those who weren't ready to pay $199.99 for an N64.
The SNS-101 model was lighter and more compact than the original SNES and combined the specs into a singular system-on-a-chip (SOC) design. The Power and Reset buttons were also moved to the left, and Nintendo removed the cartridge-eject button along with S-Video support.
3. 64DD (1999)
In Japan, Nintendo released the 64DD add-on for the Nintendo 64 in 1999. The "DD" stood for "dynamic drive" and aimed to turn the console into a multimedia workstation with Internet capabilities via a service called Randnet. After tepid sales, Nintendo discontinued the device in 2001.
4. GameCube (2001)
Nintendo launched the GameCube in Japan on September 14, 2001. In North America, it released three days after the Xbox on November 18, 2001. This sixth generation of consoles gave Nintendo its stiffest market competition yet. Not only did Sony's wildly popular PlayStation 2 dwarf the GameCube in sales, but it was also bested by Microsoft's debut console. In total, the GameCube sold 21.7 million units.
Despite the moniker, the system wasn't actually a true cube, with unequal dimensions that measured 5.9×6.3×4.3 inches. Nintendo eventually released several color variants, but the GameCube debuted in two colors: black and a bold indigo hue–the latter gave the console a toyish look. Its built-in handle also added to its kid-centric aesthetic.
Underneath the chassis, the system used IBM's PowerPC Gekko CPU clocked at 486MHz. It was capable of delivering 1.9 GFLOPS of power. It was based on a simple RISC architecture, which Nintendo implemented in hopes of winning back third-party developers it had lost with the N64. The system also featured 43MB of RAM and used ATI's Flipper graphics chip clocked at 162MHz. With it, the GameCube was able to output a 640x480p resolution. The GameCube didn't feature an internal hard drive, which Microsoft's competing Xbox offered at the time; it instead relied on memory cards.
While the system was Nintendo's first console to use optical discs without the need of an add-on device, they were a smaller proprietary format made in partnership with Panasonic. These Game Discs stored up to 1.5GB of data, which were dwarfed by DVDs that offered up to 8.5GB. Piracy concerns continued to be one of the main reasons for the proprietary format. While the comparatively limited storage size wasn't an issue for many developers, many cross-platform ports had to be compressed or remove features to fit on Game Discs.
Nintendo went with a two-pronged controller design with the GameCube. It offered unique bean-shaped face buttons along with a single Z button near the right trigger. The controller also incorporated force feedback without the need for an external add-on. In 2002, Nintendo released its WaveBird controller, which traded in rumble capabilities for wireless functionality.
5. Panasonic Q (2001)
One of the criticisms against the GameCube was that it couldn't play DVDs, so Panasonic, which worked in partnership with Nintendo to create its GameCube Game Discs, released the Panasonic Q in 2001. The system would allow you to play DVD movies in addition to GameCube games. It was only sold in Japan and was a commercial flop; Panasonic discontinued it in 2003.
6. Wii (2006)
Nintendo released its Wii console on November 19, 2006. With it, Nintendo popularized motion controls with its Wii Remote and Nunchuck controllers. The Bluetooth peripherals detected movement in three dimensions using built-in accelerometers coupled with an infrared detection sensor.
The Wii Remote offered a D-pad, speaker, and few face buttons, along with a trigger button. The Nunchuck offered a control stick and two analog triggers.
Wii Sports was praised as a great showpiece for Nintendo's motion controllers, and outside Japan, the game was bundled with the system.
The console was codenamed Revolution, which appropriately signaled a new design philosophy for Nintendo. The company believed that there wasn't enough room for three consoles vying for top-tier processing power, so Nintendo attempted to cast a wider net and marketed the Wii toward a more casual audience. The new strategy paid off, and the Wii became a colossal sales success. Not only did Nintendo buck its downward console trend, but it sold more than 101 million units worldwide, making it Nintendo's best-selling console to date.
The Wii featured an illuminated slot-loading optical drive. The system also had an SD card slot and 512MB of internal storage. Compared to the Xbox 360 and PlayStation 3, it was far from a technical powerhouse with its IBM PowerPC Broadway CPU and 88MB of memory. Its ATI Hollywood GPU also wasn't very powerful and relegated the system to 480p.
It was Nintendo's first console to support backwards compatibility. It had four controller ports hidden under a plastic door and supported GameCube games, though later Wii revisions removed this feature.
With the system, Nintendo introduced its Virtual Console, which allowed players to download emulated games from past Nintendo consoles. The Wii also featured WiiConnect24, a standby mode that allowed updates over the Internet.
In 2007, Nintendo introduced the Wii Balance Board. Designed with exercise games in mind, the peripheral was a great success and sold 42 million units.
7. Wii Mini (2012)
Shortly after Nintendo released the Wii U, the company released the Wii Mini. Taking a cue from its SNS-101 SNES refresh, the Wii Mini was a redesigned version of the Wii meant to be a more affordable console option to the Wii U. It debuted in Canada on December 7, 2012 for $99.99 and later released in Europe and the United States.
The Wii Mini featured a smaller redesigned chassis that incorporated a top-loading optical drive. It also removed several features, including S-Video, GameCube compatibility, online connectivity, the SD card slot, Wi-Fi support, and a USB port.
8. Wii U
Piggybacking on top of the Wii's success, Nintendo launched its Wii U console on November 18, 2012. The name confused many, however, as some people mistakenly took it to be an add-on for the Wii. The console has sold 13.3 million units, which makes it Nintendo's lowest-selling major console to date.
The white base model of the Wii U launched for $299 and came with 8GB of storage, but there was also a Deluxe black version that came with 32GB of storage and included a sensor bar. Like the Wii before it, the Wii U wasn't a graphical powerhouse, but it was the first Nintendo system to support 1080p.
The system's specs were co-developed by Nintendo, AMD, IBM, and Renesas. The Wii U featured IBM's Espresso CPU clocked at 1.24GHz, and it was coupled by 2GB of DDR3 RAM. For graphics, AMD developed its Latte GPU clocked at 550MHz. The console is also backward-compatible with the Wii.
Internal tech specs aside, arguably the most significant feature of the Wii U was its GamePad. The tablet-like controller featured a 6.2-inch resistive touchscreen along with dual analog sticks, a D-pad, and several face buttons. The GamePad also supported motion controls, haptic feedback, and near-field communication–a feature that allowed users to sync Nintendo's Amiibo figures to the console.
The touchscreen could be used in a number of ways. Developers could use it to supplement action on the TV screen to create asymmetrical gameplay, for example. The system launched with Nintendo Land, which showcased some of these mechanics. The GamePad could also serve as a second screen for multiplayer games. The Wii U also allowed users to stream games from the console to the GamePad, provided they were within range of each other.
While the Wii U was compatible with the Wii's peripherals, Nintendo also released the Pro Controller alongside the system.
9. Switch
Nintendo is set to launch its Switch console on March 3, 2017 with a retail price of $299. The device will be a hybrid console in a tablet-like form factor with a 6.2-inch, 720p touchscreen.
The Switch will use a custom Nvidia Tegra system-on-a-chip, and you'll be able to dock the device to use on TVs or take it with you on the go. The system will come with 32GB of internal storage and also supports expandable memory up to 2TB via Micro SDXC cards.
The Switch will also introduce Nintendo's Joy-Con controllers that you can attach or detach from the device. Nintendo says the controls will offer "HD rumble" that will provide an unprecedented level of haptic feedback.
Nintendo will not region-lock the Switch, a first for the company. Nintendo will also charge users to play online with the Switch–another first for the company.
Following up on the disappointing sales of the Wii U, Nintendo asserts that the Switch won't struggle like its predecessor. Time will test Nintendo's claims.
Source : GS